September is Library Card Sign-up Month, a time when Farmington Community Library (FCL) joins the American Library Association (ALA) and libraries nationwide to remind everyone of the valuable resources available with a library card.
This year, we are highlighting the expansive list of services available to FCL cardholders beyond the traditional book collections the Library offers. Stop by either FCL location or browse our Collections online to explore electronic devices, games, STEM kits, online learning platforms, free tutoring, and other valuable resources that can be accessed with your FCL card.
To kick off the celebration, we just dropped two new FCL card designs! Don't worry, you can upgrade your old card to a new design if you are already a card-holder. Just be prepared to memorize a new card number, if you are that level of library lover!
If you live, work, or go to school in Farmington or Farmington Hills, you are eligible for an FCL card. Stop by either Library location to fill out the free application. You can find more information about applying for a Library card here.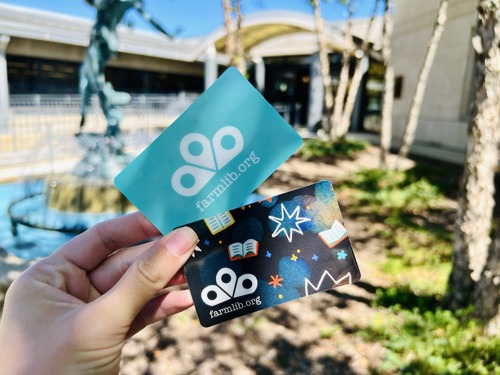 That's not all - we are also giving away our new Beach Wash Tote Bags and a coupon for one free item from the Friends Book Sale to ten new FCL card-holders throughout the month! anyone who signs up for an FCL card between September 1-30 will be automatically entered into the weekly raffle drawing. Winners will be contacted via the phone number or email associated with their FCL card.
Already have an FCL card? There are still ways you can take part in the celebration!
Library Card Design Contest
This is your chance to create an original library card design for the Farmington Community Library! Anyone who lives, works, or goes to school in Farmington or Farmington Hills is eligible to submit an original design following the theme of "Books & Beyond". Your design may be selected as a limited edition FCL Library Card that will be available in 2024.
A winning design will be chosen for each of the three age categories. All mediums are accepted; visit our Library Card Design Contest page for full entry requirements and submission details.
Talk to Your Neighbors
Library cards are cool - trust us we know! But an equally important key to success is the community that grows both inside and outside of the Library's walls. Help us celebrate this month by connecting with your neighbors. Ask them if they have an FCL card or if they know about the many resources that are available to them.
Share Your Library Stories with us!
We want to hear from you about a Library resource or service that has impacted you. Have you found community at our weekly storytimes? Used our nonprofit resources to help strengthen your organization's fundraising plans? Checked out an electronic device to help you complete a project? Or just found a home in our Library spaces? Let us know by tagging our Facebook, Instagram, or LinkedIn pages or submit a comment using the form below.